***This is NOT A SANDORKRAUT EVENT***
DIY Kombucha – April 14 & June 3
Kombucha For Less Than $2 A Gallon!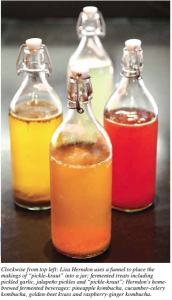 Kombucha is a fermented tea made with a kombucha starter culture (aka mushroom, mother, scoby, etc.), tea prepared with sugar and some kombucha tea from a previous batch (aka starter tea).  The mixture is allowed to ferment at room temperature for 5-30+ days.  It can be consumed plain or with added flavoring such as fruit or juice.  Kombucha contains a number of vitamins (particularly b-vitamins) and may have a number of health benefits.
Did you know that several commercial kombucha companies are now adding CO2 to their drinks without listing it on the label? Make your own "real" kombucha – don't waste your money on "kombucha" soda. We will cover this probiotic-rich beverage from start to finish including the secondary fermentation. Detailed instructions and tips will insure your success in your own kitchen.
This workshop is a great value! You get detailed home instructions and recipes and kombucha scoby with starter tea (A scoby is the live culture you need to make endless batches of Kombucha).
April 14 – Saturday 1pm to 2:30pm
Cost: $50 (including scoby, starter tea, and handout)
Location: Whole Foods Los Altos Culinary Center

Additional dates as requested for any workshop.
Contact lisa@lisascounterculture.com or 650 858-1148 to sign up or for more information.